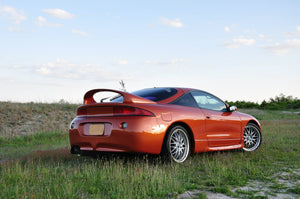 Kagan Tuning DSM Tuning package Includes 
Custom Ecmlink Tune calibrated for your setup
Tune for basic and moderate setups on 93 / Flex Fuel. We can tune any configuration you have, the more complicated the setup the more we charge for tuning.

Aftermarket fuel injectors and sufficient fuel pump size is mandatory for e85 * For flex fuel, car will need SD kit and Flex fuel sensor installed.
Raises RPM Limit
Adjust Launch Control
Adjusts Fueling
Modify VE SD table for Setup
Adjusts Ignition Timing
Adjust Boost Control
All Remote tunes for the Mitsubishi Eclipse/Talon will require The ecu to have the Ecmlink chip socketed and there Ecmlink cable for datalogging and flashing.
Warranty & Refunds
This is a digital file that will be emailed to you.  Therefore there can be no refunds or warranty claims.  By purchasing the tune you acknowledge this fact.