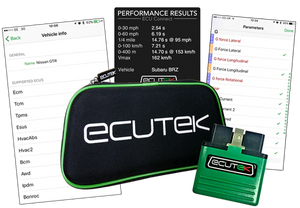 The EcuTek ProECU kit can be used for advanced diagnostics, data logging and self tuning for Ecutek supported platforms However, the kit's most impressive feature is to allow EcuTek Tuners to remotely tune customer vehicles. The Tuner supplies suitable ROM files to the vehicle owner. The customer can use the kit to program these ROM files into their own car. If any fine tuning is required, the customer can data log the car and send these logs to their EcuTek Tuner, in order to assist with the tuning process.
The ProECU Kit is licensed for non-commercial use only.
Kit Includes 
EcuTek ProECU Programming Kit

Case
Ecutek Vehicle Bluetooth Interface

End User Tuning for Ecutek Supported Platforms
High-speed Bluetooth connectivity for your mobile device
Datalogging Display and record factory and RaceROM diagnostic parameters, including engine and transmission simultaneously
RaceROM integration Driver interaction with RaceROM features
Performance Analyser Test and share the results online
Archive Stores log files and performance test results for sharing with tuners or friends – directly from within the app
Read & Clear DTCs Not only the engine ECU, but other modules too, such as for the TCM, ABS etc
ECU Reset Plus clearing of ECU learned values

*

ECU Info Provides information about the vehicle concerned
Dealer Locator Lists all EcuTek Tuners and Master Tuners around the world; can be refined by vehicle selection 
ECU CONNECT Features
Diagnostic Trouble Code Reading/Clearing 
Performance Analyzer
Data logging without a laptop
Ecutek PhoneFlash where you can flash in your tuned map files to the car via bluetooth (Optional, requires Ecutek PhoneFlash License Activation).
*Certain vehicles will have more advanced ECU Connect features when flashed with RaceRom
PROGRAM AND CONTROL YOUR CAR'S ECU WITH YOUR PHONE
Using just your phone and our ECU Connect Interface, EcuTek connects you to a whole new driving experience. From getting your car tuned to enjoying our unique RaceROM features, it has never been so easy with ECU Connect and PhoneFlash.
GET STARTED IN JUST 3 EASY STEPS:
Download the FREE ECU Connect App from the App Store or Play store
Purchase an ECU Connect Interface from one of our Master Tuners
Plug it into your car OBD socket and pair your phone with the Interface
NOW LET'S GET YOUR CAR TUNED
With ECU Connect, you can program your car's ECU with a new tune with just your phone. There are no wires to plug in, no laptops required, and no complicated instructions to follow. Programming your car with a tune file is simple and straightforward.
Open the ECU Connect App, create an account and select from over 200 EcuTek Master Tuners worldwide
Send your vehicle information straight from the ECU to your tuner at the touch of a button
Discuss with your tuner what you want from the tune
Receive a notification on your phone when your tune file has been sent to your phone
Select Program ECU and follow the instructions. No laptop. No wires. No hassle.