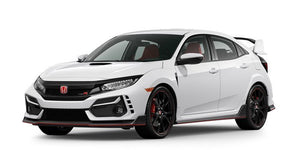 Features:
- Custom Fuel & ignition Tuning
- Optimized Vtec Engagement Point
- Custom Boost Pressure Mapping
- Custom Throttle Mapping 
- Rev Hang Disabled
- Raised Revlimit set at 7,200 rpms
- Launch Control At 4,000 rpms
- Full Throttle Shift At 4,500 rpms
- Custom Per-gear Torque Mapping For Increased Traction
- Optional Start in R mode
- Tune is locked, user cannot edit the tune

Throttle Mapping Options:
Street - First and second gears are configured to output less power than the race mapping at full throttle thus helping traction.
Race - First and second gears are much more aggressive. Too much throttle will cause a lot of wheel spin.
Fuel Octane: 91 or 93 octane versions available. Tune is compatible with e10-e15. E content above that will require a flex fuel kit.

Note: All sales are final. This is a digital file. Therefore there can be no refunds or warranty claims. By purchasing the tune you acknowledge this fact. All tunes must be paid in full and scheduled before any service is provided.
Tune files are not transferable. Support is provided to the original purchaser only. Tune files are locked from editing a majority of parameters.